Coordinate Actions around the Free West Papua Campaign Calendar
Recently we have added a new Free West Papua Campaign Calendar for 2015, featuring important dates in the history of West Papua and Free West Papua Campaign actions below these dates in Red. This Calendar will be updated every year, and as more actions get planned.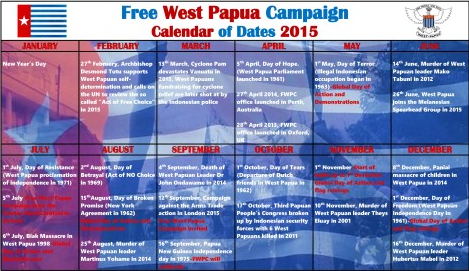 A very successful way of mobilising supporters and raising public awareness has been with coordinated days of action for a Free West Papua. The best example of this is the Global Day of Action to Raise the Morning Star flag which is held around the world on 1st December every year; bringing so many people together in showing their support for West Papua's freedom.
We try to coordinate other days of action too around specific dates in the Calendar, such as worldwide demonstrations on 15th August, the Anniversary of what West Papuans call "The Day of Broken Promise".
Coordinating Actions
You can help to raise awareness and build up the movement by holding actions on some of these dates too, be it a demonstration, a benefit gig or anything.
Visit the Take Action section for a list of more ideas and invite your friends and family to come too!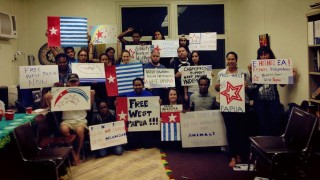 When we all Take Action for West Papua on the same date, we spread the message to the Indonesian government and the world that people everywhere are standing up to the genocide and illegal occupation of West Papua.
We will not be silent while Indonesia continues to massacre West Papuans, help us to Take Action throughout the calendar until West Papua is finally free!